September 30, 2022 by The Merovingian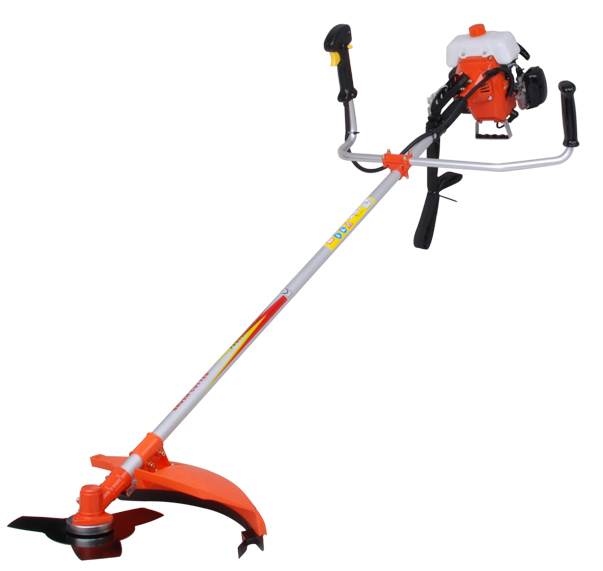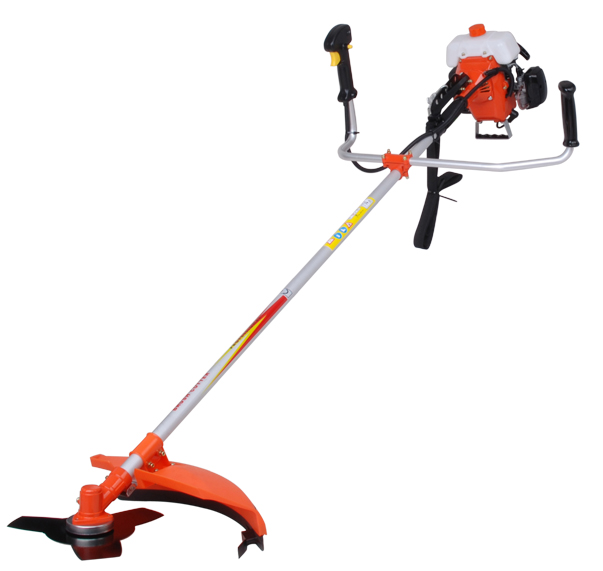 A brushcutter is a device suitable for the maintenance of a neglected plot, whether it's park maintenance or a plot visited several times a year. The principle of operation is similar to a string trimmer, popularly known as a "strimmer". In contrast, the brushcutter allows a choice of attachments and can handle a greater range of work. Typically, this includes brush cutting, removal of woody debris, grass cutting, and also tree pruning.
The basic selection parameters include, of course, the choice of a suitable drive. What engine should the brushcutter have, what power and speed, which handle will be more comfortable for you, and what weight shouldn't be exceeded? The following lines will answer all of these questions, and we will introduce you to the most important parameters that will help you make the ideal choice.
How to choose a brushcutter briefly:
The right type and power – Choose the type of engine and its power depending on whether it will be used for garden maintenance or more demanding areas such as woods, fields, and more. Higher power doesn't automatically mean a win, as the machine will also be heavier.
Determine your budget – Among the cheapest brushcutters, you'll find weak electric models; as the price rises, look for cordless units or powerful petrol brushcutters.
Width of accessories – You can also choose between models based on what the dealer adds to the package. This can include special discs, trimmer heads, trimmer blades, and more.
Vibration – In the case of petrol models, comfort at work plays a big part aside. Keep vibration as low as possible.
Service and warranty – Especially with more expensive models, check the availability of service and spare parts and compare the length of the warranty.
Type
If you have a garden, or perhaps you spent your childhood in one, you'll have come across a device called a string trimmer, often referred to as a "strimmer". This has a strimmer head attached to a shaft at the bottom. A brushcutter is also essentially a strimmer, but unlike a strimmer, the cutting head can be exchanged for additional optional accessories.
A strimmer can only deal with grass and in many cases not very much grass, whereas a powerful brushcutter with the right equipment can also mow woody plants, shrubs, reeds, and even smaller trees with a saw blade. The brushcutter is therefore a multifunctional device that allows many other functions besides grass cutting.
Brushcutters
More robust at first glance, that's exactly what a brushcutter looks like next to a trimmer. It's a more powerful, more durable, and, above all, multifunctional machine designed not only for cutting grass but also for removing shrubs or smaller trees. The brushcutter is generally used for mowing larger areas.
The power produced by the brushcutter is transmitted by means of a fixed shaft. This usually takes the form of a one-piece mechanical gear. Of course, you can also come across split shafts. These allow you to disassemble the brushcutter into two parts, making it easier to transport in the car or store.
Brushcutters are primarily equipped with a durable blade, most often a triple-point blade, which is also capable of cutting through bushes and stiff stems. However, with the vast majority of them, you'll find that you can swap out the head with a blade for one with a string, giving you a full-fledged string mower.
String trimmers/strimmers
A string trimmer is often referred to as a strimmer. A lightweight version of a brushcutter, its primary job is to cut the grass around fences and various garden features that you can't get to with a mower.
The name "string trimmer" itself suggests that the strimmer has only a string to cope with lower grass. This is also reflected in the design itself, including the weight. Strimmers usually don't have a fixed shaft, their power is transmitted via a bowden. Only the string can be used, not the blades or other accessories belonging to brushcutters.
Drive
Once you have a clear idea of whether a brushcutter or a trimmer is better for you, it's a good idea to proceed with the choice of the power unit. This too is largely intertwined with where you'll use the brushcutter most often and how large an area you need to cut.
Each power unit has its own undeniable advantages, which we'll summarise in separate paragraphs below. There are three types of power units to choose from, namely petrol, electric, or battery power.
Petrol brushcutters
The most powerful and also the most versatile solution is petrol powered. Combustion brushcutters are suitable for more demanding jobs as well as for large plots. The big advantage over electric is a certain degree of freedom when mowing, you're not restricted in your movement by the cable or the battery charge level. You only need petrol and oil to operate.
In general, petrol brushcutters are associated with more weight and noise during operation. Also, the engine itself is a bit more demanding for regular maintenance. Petrol brushcutters can then be selected according to the type of engine, which will be discussed in the following section.
Two-stroke brushcutters
Four-stroke brushcutters
If you opt for a petrol brushcutter, which is probably the most popular and practical in terms of usability, then the question arises as to which engine option to choose. After all, each of the engine types listed below has its own advantages and disadvantages that suit your requirements and the way you use your garden tool.
Four-stroke brushcutters
It's wise to start by listing the advantages of four-stroke brushcutter engines. First and foremost, there's certainly less "violent" noise to strain human hearing. In general, this type of engine is quieter. You won't be surrounded by such a large percentage of fumes when mowing either. Petrol and oil have two different tanks.
On the other hand, there are a few negative features that you should know about. The lower power output compared to the two-stroke version may not be the most significant problem yet. Some may be more concerned about the complexity of this engine, which translates into more expensive repairs and more difficult regular maintenance.
Four-stroke engines are usually purchased by people living in housing estates so that they don't disturb their surroundings with noise and fumes.
Two-stroke brushcutters
Their advantage is undoubtedly higher performance. This is due to the engine design itself. It's also simple in nature, as there's no need for any valve or manifold design. With a two-stroke engine, however, you must not forget that you also need to add the appropriate amount of oil to the petrol.
This mechanical simplicity is redeemed by higher noise and exhaust production. On the other hand, you won't have any problems with regular maintenance, which is simple. Perhaps that's why two-stroke engines are a far more preferred choice than four-stroke engines.
Engine capacity
This parameter should also be selected taking into account the type of person who will be working with the brushcutter. In general, the higher the capacity of the brushcutter, the more force is required to start it. This applies to petrol models, of course. Older people and women in particular need to be aware of this fact.
The engine capacity of a petrol brushcutter can be divided into three categories:
Volume up to 29 cc – Small, light, and less powerful machines.
A volume of around 30 to 45 cc – The golden middle ground. These brushcutters can cope with the most common customer requirements and, to a limited extent, can also handle heavier terrain.
Above 45 cc – brushcutters designed for professional use and especially for men. They won't mind the more difficult starting.
Vibration
Petrol brushcutters are also associated with a certain level of vibration. These are transmitted from the engine and shaft to the handles. High vibrations will quickly cause your hands to ache, so choose according to these parameters as well. The ideal level is around 10 ft/s² (3m/s²).
Electric brushcutters
If you only need to cut the grass around the house or building where there is a power supply, electric brushcutters are the way to go. These are lightweight brushcutters, much lighter than petrol ones. Internal combustion engines are heavy due to their design.
You can also count on the quieter operation and lower vibration levels. However, these benefits are also compensated by lower power. Weight is typically between 4 and 7 kilograms. Add to the ease of use a lower purchase cost. On the other hand, electric brushcutters have one major limitation. This is the power cord that drives the electric motor.
For this reason, too, electric brushcutters are more suited to smaller garden areas where you don't have to drag dozens of meters of extension cable behind you. This means that mowing close to the house is ideal. Another danger is that if you're not careful, you could cut the entire cable and cause a problem.
Cordless/battery brushcutters
Battery-powered brushcutters are also relatively new on the market. These can be rated similarly to their older corded offshoot, with the advantage of unrestricted movement. However, the major disadvantage comes with the high purchase price and the need to recharge the battery.
The brushcutter is equipped with a battery, the weight of which can be higher. On the other hand, the length of use or grass cutting is limited by the battery capacity. Nevertheless, this type of brushcutter finds its fans thanks to its mobility, the absence of a cable (risk of cutting), and less noise. However, the lower power may be a handicap.
They find their use, especially in the gardens of houses for landscaping around rockeries, flowerbeds, fences, and other obstacles that a conventional mower can't reach.
Power
The performance of a brushcutter is closely related to where and how you use it. Understandably, if you choose a model with higher power output, you'll be able to cope much better with denser and less permeable terrain. Higher power ensures that you avoid unpleasant grass snags or even overloading this garden machine.
However, more power usually comes with more weight. Therefore, it can't be said that it's best to buy the most powerful brushcutter that can fit into your budget. On the contrary, it's advisable to choose only the power you'll actually use. Depending on the power, the machines can be divided into three categories.
| | |
| --- | --- |
| Power | Purpose |
| Up to 1 kW | Small areas, grassland |
| Up to 2 kW | Medium to large areas, grass, reeds, scrub |
| Above 2 kW | Large areas, grass, reeds, scrub, smaller tree trunks |
The power of petrol brushcutters is closely related to the engine capacity, generally, such machines are more powerful and you'll come across power over 2 kW. On the other hand, electric and cordless brushcutters tend to have lower power output. The power curve varies between 1 kW and 1.5 kW.
Handle
When buying a brushcutter, you should consider not only the performance of the garden tool but also the overall ergonomics. We're thinking in particular of the handle design. The shape of the handle design is a major factor in the comfort of the mowing operation and the overall user experience of the brushcutter. The products on the market today have three types of handles.
The handle – A space-saving design that's certainly more compact and lighter. A simple handle is attached to the body of the brushcutter. It should be noted that you have to learn how to handle this design to make the job effortless for you.
Handlebar-shaped handles – This model is also referred to by the foreign-language term "bike". The wide handle, while adding to the overall weight of the machine, is very comfortable to operate. It's usually included with heavier and more powerful brushcutters.
An integral part of almost every product is a suspension strap, which allows you to carry the weight of the brushcutter on your shoulders, not in your hands. The strap can be in a very simple form over one shoulder, or it can be made up of a sophisticated clamping system over both shoulders and chest.
Interesting fact: Some brushcutters are already included in the base or can be retrofitted with a back system. Although the brushcutter has handlebars, the weight is carried by your back, not your arms or shoulders.
Hmotnost
The overall weight of the device is also essential for good ergonomics in use. If you're mowing a small plot of land with some brush or small trees here and there, you won't benefit from the higher power. The overall weight will also increase, and an easy job can become a rather demanding physical task. So take weight into account when choosing your machine.
The heavier the brushcutter you buy, the more you should be concerned about the vibrations it produces or how they're prevented from being transmitted. Vibrations can make your mowing difficult and can soon tire you out. The quality of the shaft through which the vibrations are transmitted has a considerable influence on the vibrations. In terms of weight, we can divide brushcutters into 3 categories.
Weight up to 6.6 to 8.8 lbs (3 to 4 kg) – Lightweight brushcutters with low power. They're usually not even equipped with a strap.
Weight 11 to 17.6 lbs (5 to 8 kg) – Versatile brushcutters for general use around the house.
Weights over 11 to 22 lbs (8 to 10 kg) – Powerful and professional machines.
In general, we recommend choosing electric models for smaller house gardens and similar small plots. Also, brushcutters for some shouldn't be too heavy. This isn't to say that a woman can't do the same as a man, but don't slip into choosing unnecessarily over-powered and therefore heavy models. Such a device is more likely to make your arms and back ache.
Accessories
Since the biggest advantage of a brushcutter over a strimmer, or "strimmer" as it's popularly called, is its wide range of applications, the range of optional accessories is also quite wide. These include trimming blades, strimmer heads, saw blades, and more. We'll look at these accessories in more detail below. We recommend using the original manufacturer's accessories.
Trimming blades
The trimming blades are an essential piece of equipment for brushcutters. These can be double- or quadruple-ended. This is a cutting attachment designed to remove tough grass, thickets, brush, and small woody debris. They're primarily designed for neglected areas of land with weeds, very tall grass, brush, and reeds.
Trimmer heads
To cut grass efficiently with a brushcutter, fit the shaft with a mower head. This is used to attach the mower strings. The advantage of this attachment is the large cutting area and therefore high working speed. However, unlike the trimming blades, the string doesn't remove harder obstacles such as shrubs or woody growth.
Grass cutting blades
The hard metal grass-cutting blades are designed to work on larger areas overgrown with thicker weeds and reeds. They're not very suitable for mowing ordinary grass as they're less effective than stringers. On the other hand, mower blades can also handle grasses that strings couldn't not separate.
Saw blades
Saw blades come in three designs, namely chisel-toothed, pointed-toothed, or carbide blades. Each design has its own advantages, with carbide-tipped blades being the best quality and most expensive. Generally, these accessories belong only to medium and more powerful machines.
Personal protective equipment
When working with a brushcutter you should think about practical protective equipment. Brushcutters generate quite a high level of noise when working, so ear defenders are certainly appreciated. Protective goggles are also an important accessory; a brushcutter can shoot out an accidental splinter or pebble-like small projectile. This also involves protective clothing, but at the very least long sleeves and trousers and gloves shouldn't be missing.
Maintenance and service
Like a lawnmower or any other garden tool, brushcutters require regular cleaning and maintenance. Primarily, the brushcutter cover and attachment should be cleaned after each mowing and the filter checked for blockages. However, we'll describe the maintenance steps in more detail below.
Cleaning your brushcutter – After use, you should regularly take some time to dust your brushcutter, especially to remove grass debris and other dirt. Before cleaning, disconnect the spark plug, cable or battery, depending on the type of drive. It's best to use a plastic trowel and a broom with harder blades for this purpose.
Fuel – Always refill with the prescribed fuel. Pure unleaded gasoline is usually used, as well as special oils for high RPM engines.
Air filter cleaning – Once in a while, remove the air filter cover and check the condition. If the filter and the area around it is very clogged, clean it. A brush or compressed air works well. If the filter is old and very clogged, it may be a good idea to replace it completely.
Lubricating the angular gear – Once every 30 hours or so of work, lubricate the angular gear. There should be a grace screw in the joint between the brushcutter head and shaft, unscrew this, and put grease inside (most use a special mixture in a tube). Screw the screw back in after greasing.
Other tasks – There are other servicing tasks on a brushcutter, but these are best left to the care of a service professional. These include checking and replacing spark plugs, adjusting the carburetor, checking the anti-vibration system, and so on.
The frequency of the individual maintenance tasks is often specified by the manufacturers in the manual, and we recommend that you follow this manual.
Attention at work!
When working, it's advisable to take into account the very fast speed of the machine. If you're working near a flower bed with pebbles, bear in mind that at 9,000 RPM the brushcutter can shoot a pebble like a projectile and easily break a nearby window. It can also be minimally painful to be hit by such a chip or other crushed material.
Therefore, be mindful not only of your safety but also of the safety of your immediate surroundings. If you're working with metal blades, never approach them when the equipment is in use. The use of personal protective equipment such as work boots, long trousers, or safety glasses is strongly recommended. Gloves not only help to dampen vibrations but also protect your hands from injury.
Price
The purchase cost of this garden tool varies depending on whether you want to buy a full-size brushcutter or just a trimmer or string trimmer. Then, of course, there are different parameters associated with the price groups. Below we present a comparison of brushcutters and their parameters according to purchase price.
Price up to $100
If you're investing up to $100 in your future brushcutter or trimmer, you should expect to choose mainly electric ones. The predominant models will be models corresponding to string trimmers with a power of up to 0.75 kW, lightweight devices with a speed below 8,000 RPM, and a handle design. You'll also come across very basic petrol.
Price from $100 to $300
In this case, you already have the option of getting a quality brushcutter for home use. Within the petrol machines, mainly the two-stroke ones prevail, which are also equipped with a full handlebar-shaped handle. Of course, with the increase in power of around 1 kW to 1.5 kW comes a higher weight of around 11 to 15.5 lbs (5 to 7 kg). Cordless models are also available.
Price over $400
In this category, you can get brushcutters with power well above 2 kW. Of course, this also translates into an appropriate weight of over 17.6 lbs (8 kg). There are mainly motorized brushcutters designed for professional use. The purchase costs can therefore exceed $1,200.
Although it may seem that they don't differ much from the middle class in terms of parameters, the higher price is due to better quality and, for example, a better engine or carburetor. They're designed for demanding and long work with reduced vibration. They can cope even in difficult terrain and the filter doesn't usually get clogged too quickly.
Frequently asked questions about brushcutters
How and which brushcutter to choose?
Before choosing the right brushcutter, make sure you know what parameters are important to you. A more powerful machine will certainly cut more, but it will also be heavier. For the maintenance of a small plot of land behind your house, using it will be a rather unnecessary burden, not to mention a high investment. For small plots, brushcutters up to 1.2-1.5 kW are suitable. Higher power is more suited to large areas or demanding environments such as woodland or overgrown fields. For smaller work volumes, electric or even battery-powered models can also be an interesting option. Take manufacturers and user reviews into account when making your choice.
Which brushcutter is best for tall grass and difficult terrain?
If you need to mow a neglected lawn and have high demands on your new helper, you're best off reaching for a brushcutter, and one with a petrol engine. Even tall grass and dense vegetation will succumb to this. Because you don't need a power cord, you can now even remote areas without worrying. If you don't have to consider your neighbors, choose a brushcutter with a two-stroke engine, which guarantees high performance and is low maintenance. Although it's also louder and produces more emissions, it's a very popular option.
What makes a cordless brushcutter good?
Cordless is an option that tries to combine the best features of petrol and electric drives. Petrol engines are more powerful, but also heavier and louder. With an electric model, you won't get far from an outlet, but it will be quieter and easier to carry in these conditions.
If you get a battery-powered brushcutter, you'll get a mobile unit that doesn't make as much noise as a gasoline-powered one. However, the disadvantages include the limitations of the battery life.
What protective equipment do I need?
Because a brushcutter can cause harm through mishandling an unfortunate coincidence, it pays to keep safety in mind when using it. You should think about noise-canceling headphones, protective gloves, and a face shield to protect you from flying pieces. Your eyes will be even safer behind your goggles.