Hedge Trimmer Buying Guide
October 2, 2022 by The Merovingian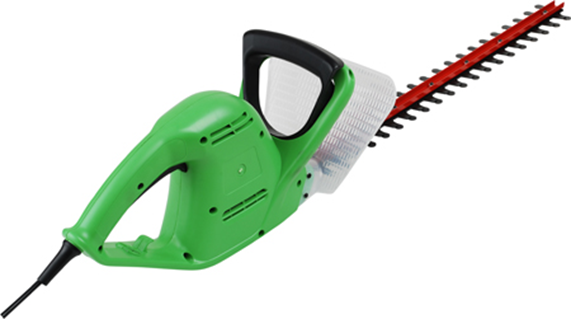 The hedge trimmer is one of the devices we buy for long-term use. This makes it all the more important not to underestimate the importance of thorough research to help you find the right machine for your needs. To make the research less complicated, we have created this article to guide you through the selection process. And to start with, we have good news – choosing a hedge timer isn't as complicated as it may seem at first glance. However, there are some things to keep in mind.
Hedge trimmers can be classified according to several factors – in particular, the type of drive, the length, and shape of the device, the power of the motor, and the length of the cutting bar. For example, a long hedge trimmer has a completely different purpose than a short hedge trimmer, which you'll learn about in one of the first chapters of this article. Before that, however, we'll look at the drive – the division into petrol, battery, and electric (with cable) is the most common and basic. The tricky part is the power mentioned, which we'll also explain.
However, what would a hedge trimmer be without a toothed bar, which is responsible for trimming the fence? Its length is the main issue, but the spacing of the individual teeth is also important, as is the maximum thickness of the branches to be cut. We'll also shed some light on why you might be bothered by the high weight associated with petrol and cordless chainsaws in particular. Finally, we'll mention other features that will make fence cutting easier, and the price window will guide you according to your budget.
How to choose a hedge trimmer in a nutshell
Petrol, electricity, or battery? There are pros and cons to each of the power sources, which should be considered according to your needs. It's also possible that you can get by with a manual hedge trimmer.
Watch out for power. Petrol and electric hedge trimmer should have at least around 500 watts if you're serious about using them. Cordless ones don't have this parameter, you have to go by other, available data and the experience of others.
Short or long? The two types are pretty far apart in design. For most uses, a short hedge trimmer is better, with a long one on you don't have to pull out the pole when trimming tall bushes.
It all starts with the bar. Be concerned with its length, which should match the depth of the fence, but also the spacing and placement of the blades, depending on the thickness of the branches.
High weight can be limiting. Always take into account the extent of the fence to be cut. An extra kilo won't bother you too much when you're trimming your garden in a quarter of an hour, but your back and arms may ache after an hour's trimming.
Some features can make up for the shortcomings. For example, an anti-vibration, soft-touch, or adjustable handle can feel like a hedge trimmer that's less heavy. The safety function prevents accidental starting and overheating.
Find out what's included. The straps or telescopic poles are useful for longer work. Cordless hedge trimmers are often sold in a version without and with a battery and charger, which significantly affects the final price.
Drive type
At the start of everything, be clear about what you actually want to cut your hedge with. There are several different tools behind the term hedge trimmer that can be used to achieve similar results. They differ in speed and difficulty of work, user comfort, and price. You can choose from four product types:
Hand-held hedge trimmers
Electric (corded) hedge trimmers
Cordless hedge trimmers
Petrol hedge trimmers
Hand-held hedge shears
The most basic model is the classic hedge trimmer. These are actually large shears that you have to operate manually and cut with your own power. Of the models available, this is definitely the cheapest solution. Since you're cutting the hedge manually, they're more suitable for fine-tuning and finishing touches. Alternatively, for areas up to around five meters of hedge length. Then you could have quite a bit of work to do with the shears.
The advantage of manual hedge trimmers is that they last a long time thanks to their simple design. Compared to other types, they usually don't contain any electronics – so there's nothing to damage, apart from the joint itself. However, always bear in mind that these shears involve more physical effort and will be slower to work with. Thus, for larger areas, an electric or cordless hedge trimmer will only replace it at the cost of your comfort.
Electric (cable) hedge trimmers
This is probably the most commonly used version of the hedge trimmer. You need to have an electrical socket within easy reach for it to work. You can get close to this using an extension cable, but for long hedge ropes, it's better to limit the cables and go the petrol or battery route.
The automatic operation of the hedge trimmer is particularly in favor of the electric hedge trimmer, so any manual, labor-intensive cutting is eliminated. In addition, the electric version is light enough so that you can create all sorts of shapes with it. However, you have to take into account that the power of these models is usually lower than that of petrol models. This means that the electric hedge trimmers are especially suitable for softer and thinner wood. You also always have to be careful where you have the cord so you don't cut it.
Cordless hedge trimmers
If the idea of lugging an extension cord around the garden puts you off, get a cordless hedge trimmer. The battery is an integral part of the hedge trimmer and acts as the source of the necessary electricity. Current models are designed, among other things, to achieve the lowest possible weight while applying a larger battery. Even a battery hedge trimmer doesn't reach the power of a petrol hedge trimmer and is therefore mainly designed for smaller and softer shrubs and trees.
The biggest advantage of the cordless chainsaw lies in its mobility. Today's batteries can last well over an hour of continuous operation on a single charge. If you have a long hedge, just purchase a spare battery and nothing will restrict you. However, the negatives include a higher purchase cost than an electric one, while the positive is that you don't have to constantly keep an eye on the position of the power cord.
"Cordless programs" – watch the contents of the pack
When buying, make sure that the charger and battery are included in the purchase price. Often, manufacturers sell these components separately because they offer so-called battery programs, where one type of battery can be sued in several different tools and power garden tools. The amount per battery can sometimes even equal the price of the tool.
If a battery with a charger was always included in the basic equipment, users might start to accumulate these components in the garage without use. Thus, only the instrument itself can be purchased if you already have adequate accessories. However, it's always a good idea to own at least two batteries, where you use one and can charge the other.
Petrol hedge trimmer
The last type of chainsaw available is the petrol one. It includes an internal combustion engine, which results in a higher weight of the device. On the other hand, you'll appreciate its mobility, which is comparable to that of a cordless hedge trimmer.
The petrol hedge trimmer is suitable where you need more power for thicker trees. You can also handle thick branches without the slightest problem. They also find their use in cases where the hedge trimmer is used almost daily, for example, when landscaping public green spaces and the like.
The negatives of the petrol chainsaw, apart from its higher weight, include its high purchase price and the need for more frequent engine maintenance than the electric or battery version.
Type of tool
Advantages
Disadvantages
Hand shears
+ Low price
+ Long service life
– Working with them is strenuous
Electric (corded)
+ Cheapest of the automatic options
+ Low weight
+ Relatively easy to maintain
– Need to constantly count on the socket
– Danger of cutting the cable
Battery (cordless)
+ Increased mobility
+ Don't have to be careful about cutting the cord
+ Wide range of options
– More expensive than an electric drive
– Too heavy for some
– Battery needs to be charged
Petrol powered
+ Highest power
+ Good mobility
+ Last longer than a battery
– Most expensive option
– More complicated to maintain
– Loud and heavy engine
Engine power
When choosing a new hedge trimmer, don't underestimate the performance of your chosen product. This determines how well and easily the shears will cut, but also what type of trees they can still handle. In the case of electric (corded) devices, it's quoted by the manufacturers in watts (abbreviated as "W"). It's usually referred to as "motor power", but sometimes the same parameter is referred to as power. Either way, the basic limit for a hedge trimmer is 500 W. In principle, two types of hedge trimmers can be distinguished:
Power up to 500 W – Hedge trimmers are particularly suitable for small fences.
Over 500 W – Hedge trimmers that can handle thicker trees.
Depending on the type of hedge you have and how thick the individual branches are, choose the appropriate power. This can be as high as 800 W. As the power increases, you'll usually find longer blades and larger blade spacing.
For other types of shears, the situation is more complicated. The power of petrol hedge trimmers is sometimes in watts. A simple conversion can help: one "horsepower" equals about 750 watts. It's even worse for battery-powered devices, where power is not explicitly stated. Theoretically, it can be obtained by multiplying the voltage (in volt, V) and the current (in amps, A). But you usually can't get the latter value, so you are left mainly with the experience of others.
Maximum speed
One possible alternative to power measured in watts is the speed of the cutting bar. It's expressed in idle strokes or revolutions per minute and indicates the number of times the blades move back and forth during that period – essentially the frequency of that movement. Logically, the higher the number (and therefore the speed), the more the hedge trimmer can cut in the same amount of time.
Basic models will do around 1,500 strokes per minute, which is sufficient for basic use in smaller gardens. For more frequent cutting without stress and nerves, we recommend a speed of around 2,500 strokes per minute. The fastest hedge trimmers then hit 5,000 strokes per minute.
Length of fence blades
The length and shape of the entire hedge trimmer are also important. Basically, there are two types – short and long.
Short hedge trimmer – The more common type used by most hobby gardeners. Some can be fitted with accessories including a telescopic pole, so they can replace a long hedge trimmer.
Long hedge trimmer – Look like a short hedge trimmer mounted on a several-meter-long pole. It's suitable for trimming high or hard-to-reach fences without the need for a pole. We usually think of the former, which is more like a saw and is more common. However, the long hedge trimmer is indispensable when trimming very tall shrubs, as you can also trim these without a pole thanks to the telescopic pole. However, it's harder to handle.
The bar
The bar is another key component of the hedge trimmer, besides the drive unit. It's the gear on which the blades move against each other, gradually cutting off the plant branches as they come between the blades. Important parameters include the length of the bar, the positioning of the blades on one or both sides and then the spacing between the blades, and the depth of cut. When selecting a particular model, it's advisable to choose a product with slightly oversized parameters, given the intended work.
The ideal situation is when the knives are made of high-quality steel, carved and laser or diamond ground. The blades of hedge trimmers are very difficult to sharpen, so it's a good idea to make sure you choose a blade with a long life. Also watch out for dulling of the blades by any hard material (hidden steel cables, etc.).
There's one more relevant parameter for a long hedge trimmer – the angle at which the bar can be tilted in relation to the control bar. You can then stand almost directly in front of the hedge trimmer vertically, as well as keeping your distance and holding it almost flat. This angle is given in two forms – firstly for tilting forwards and backward separately, and secondly as the sum of the two values, where only one number is the result.
Length of the rail
We recommend paying sufficient attention to the length of the fence bar. This is because it determines how easy it is to handle the hedge trimmer and how large an area you can cut at once. The length of the bar also means that you need to make sure that the machine has sufficient power. You can use the general rule of thumb that 10 centimeters of length should mean plus 100 watts of power.
Shorter bar lengths of 8 to 16 inches (20 to 40 cm) – These hedge trimmers are more suitable for smaller fences and also make it easier to trim curved shapes. Their undoubted advantage is easier handling. The lighter weight of the product also has a significant influence on this.
Longer rails from 16 to 32 inches (40 to 80 cm) – These rails are able to trim a larger area at once, so they'll be ideal for owners of straight and long hedges. However, you have to take into account a lower handling capacity. Bar lengths over 24 inches (60 cm) are ideal for experienced gardeners.
For basic hobby work, a bar of around 22 inches (55 cm) should be sufficient. For the most delicate work, small cordless grass trimmers with a really short bar can also be used, for example for finishing lawns for a more finished look.
Single or double-sided
Automatic hedge trimmer models can also be divided into two groups according to whether they have cutting teeth on one or both sides of the bar:
Single-sided – These bars are often longer. They're best suited for cutting long, straight sections where they work faster.
Double-sided – With models that have teeth on both sides of the bar, they're easier to shape. Most models also have a tilting rear handle where you adjust the angle of the cut.
Blade spacing and depth of cut
Closely related to the bar are the blades, which are an integral part of the bar. In this case, you'll be mainly interested in the spacing of the individual blades. A twig or hedge will fall into the gap and be cut. You should therefore choose a spacing that corresponds to the tree species being cut, with 0.6 to 0.8 inches (15-20 mm) being the standard. As the value increases, you must also think about the sufficient power of the machine.
Manufacturers often specify the maximum cutting thickness instead of the tooth spacing.
This is often around 0.8 to 1 inch (20 to 25 mm). A hedge trimmer with a smaller cutting thickness is more suitable for small shrubs, while a device with a cutting thickness of more than 1 inch (25 mm) is needed to cut through bulky and sturdy trees. Usually, the maximum branch thickness is obtained by adding about 0.2 to 0.4 inches (5 to 10 mm) to the tooth spacing (the large the spacing, the more can be added).
But hand in hand with the blade spacing is the depth of cut, which is actually the length of the blade from the tip to the center axis of the bar. The depth of cut also has an effect on the work, of course. If the spacing of the blades is large but the blades themselves are significantly shorter, then thicker branches won't be cut completely. Ideally, therefore, there should be no significant differences between the spacing and depth values, and at the same time, these figures should be as high as possible.
Weight, noise, and comfort at work
Don't forget that you can work with the hedge trimmer for tens of minutes to several hours. Therefore, be aware of the overall weight. A weight of up to 6.6 lbs (3 kg) is considered optimal, and you shouldn't have any major problems with it even when holding it for long periods of time. However, hedge trimmers weighing more than 13.2 lbs (6 kg) are no exception.
If you plan to work continuously for longer periods of time, you should also pay attention to the comfort of use. It's a good idea to try out a hedge trimmer in a brick-and-mortar store to see if it fits well in your hands. Ergonomic handles with soft materials are more comfortable, and a vibration-damping system is a must for petrol machines. A big advantage is the adjustability of the handles, try them out to see if the shape suits you.
Comfort at work is also linked to the noise level. There are two forms of noise, known professionally as "sound pressure level" and "sound power level". Both are expressed in decibels (dB) and mean the same thing – noise level. Acoustic power is measured under the same conditions, so it expresses theoretical maxima and takes on higher values. However, it doesn't include other factors that affect how a given noise affects a person – perceived noise level is better indicated by pressure.
Functions and accessories
Hedge trimmers can be purchased not only individually, but also with many practical accessories. Some beneficial functional features from the factory are no exception. These too will bring you proper comfort when trimming your hedges and offer something extra. For inspiration for buying a hedge trimmer with suitable accessories, see the following points:
Swivel handle – With the help of this handle, you'll be able to turn the hedge trimmer 180 degrees.
Telescopic handle – Ideal for tall hedges, for which you don't need to take a pole, but simply extend the handle.
Trigger lock – The hedge trimmer has a blade bar with fast-moving blades, so it's essential that the machine is fitted with a trigger lock where you have to press the buttons on both handles to get it to start working. This will prevent accidental injury to the user.
Overheat fuse – On some machines, this stops operation in the event of prolonged and demanding work that they're not built for, to prevent damage.
Safety brake – A special accessory in case it's necessary to immediately stop the hedge trimmer from running.
Safety lock – Serves as a trigger lock so that no one can accidentally trigger it, for example when handing over the hedge trimmer.
Anti-vibration system – Dampens vibrations coming from the motor, saving the gardener's arms, and chest. Work is then more comfortable.
Handle guard – Helps prevent injury to the hand from flying pieces of branches when gripping the front of the hedge trimmer.
Blade cover – Prevents damage to the blade and the entire bar during storage and carrying. Made of soft or hard plastic.
In addition to these accessories, of course, you can also purchase a large variety of replacement parts, including bars, blades, batteries, and more.
However, be sure to also keep your safety and the safety of everyone around you in mind when working. Wear protective equipment such as work gloves, goggles, and, if necessary, shields, and protect your hearing with ear mufflers when working with petrol machines.
Maintenance of the hedge trimmer
Like almost every garden tool, the hedge trimmer requires some care. This depends on the type and frequency of use. If you cut a few trees once in a while, it takes less time to maintain the tool than if you use it every week.
Overall, however, maintenance isn't difficult, just follow a few basic points:
Like all cutting, chopping, and pruning tools, the hedge trimmer requires regular sharpening. However, unlike an axe, for example, we recommend that you entrust this task to professionals. Carefully shaped laser blades are very easy to deface by carelessness, unintentionally changing the shape of the tooth will distort the overall geometry and the blades won't fit together or will cut crookedly.
What you can already do yourself is lubricate the bar, ideally after each use. Lubricants exist in spray form, which you simply spray on the bar, run the tool lightly through, and then wipe off the excess.
It's also important to check the cooling air vents, as clogging them can lead to engine overheating.
Petrol models require a few extra points. At least once a season, they need an oil change and a valve clearance check or adjustment. After trimming, rid the unit of plant debris and store it in a dry place.
When to cut the hedge?
Once you've got a hedge trimmer to suit your requirements, you should also know when to start trimming the hedge. This is because this process should be done at certain times of the year, depending on the tree species in question. Depending on the type of hedge, you should also allow for a different cutting frequency, which can vary a lot.
Most often, the hedge is trimmed just after spring, so sometimes in late June or early July. A second trimming before winter can then be done at the end of August. There's a reason for this, the trees will have time to prepare for the winter that's coming soon. Very invasive changes should be made in winter when the plant is dormant.
For better orientation, you can mark out the desired height when trimming the hedge, for example by hanging a string horizontally to guide you as you work.
Frequently asked questions about hedge trimmers
How and which hedge trimmer to choose?
Depending on how big an area you need to maintain. While there are hand-held hedge trimmers, they're more suited to finishing or trimming smaller shrubs. For larger areas, we recommend an electric, battery, or petrol hedge trimmer. The first two are characterized by a lower purchase price and average performance, while petrol devices are heavier, and more expensive but often more powerful. Most people will be happy with a short hedge trimmer, but you can opt for a long one for tall shrubs.
What's the difference between a petrol and an electric hedge trimmer?
The biggest difference is their power. While an electric or battery-powered hedge trimmer (which also runs on battery electricity) is more suited to weaker trees, a petrol hedge trimmer can handle almost anything. However, it requires higher initial investment and is heavier than an electric one. With the latter, on the other hand, you're limited by the cable you have to carry around. The cordless model is a kind of middle ground that combines the advantages of both.
What to look out for when choosing a hedge trimmer?
The first risk of disappointment lies in the contents of the packaging for cordless hedge trimmers. It's not often that you will not find a battery in the box. The manufacturer is counting on the fact that you have already bought it for another device because it is usually universal. It's also recommended to have two batteries so that one can be recharged during cutting. Before buying, it's also better to try the hedge trimmer in a brick-and-mortar store and test its ergonomics – good parameters don't necessarily ensure that the device will suit you when cutting.