Garden Tractor Buying Guide
October 1, 2022 by The Merovingian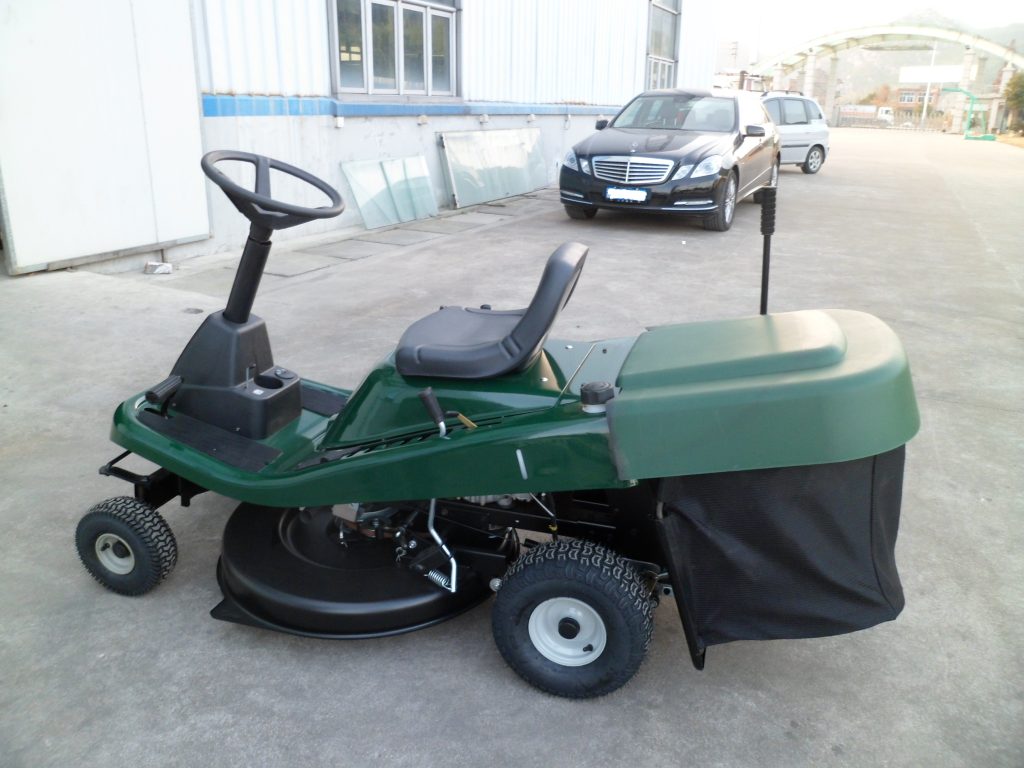 The garden tractor is an indispensable helper for all those who regularly mow larger law areas over 1,640 ft² (500 m²). If you have a large garden or are looking for a versatile tool for other activities around the house, the right garden tractor model will come in handy.
The overall design of the garden tractor and its motorization play a very important role in the selection process, which also determines its performance. This article will become your practical guide when looking for a garden tractor. The tractor must be suited to the nature and terrain of your land. These are the factors that matter most.
In this article, we'll describe the types of land for which a garden tractor is suitable, define the differences between tractors and riders, and look at the link between power and width. We explain the difference between mechanical and hydrostatic transmissions. When choosing a tractor, it's also advisable to consider the cutting height. Finally, we'll look at options for optional equipment, service, and price levels.
How to choose a garden tractor in a nutshell:
Before going into more detail on how to choose a new garden tractor, we've prepared some basic points to follow in your process.
The nature of the land – The size of the area you'll be cultivating is crucial. Think also about the roughness of the terrain.
Adequate type – For smaller gardens with rough terrain, trees, and shrubs, choose a more agile rider. For large grassy fields, get a conventional garden tractor.
Power – Higher power is good for sloping expansive terrain for example, on flat ground it won't make much difference.
Swath width – The size of the plot determines the choice of the appropriate swath width. For a flat and wide swathe, a cutting width of over 100 cm is advantageous, for a smaller, undulating garden around 70 cm is ideal.
Suitable gearbox – Mechanical gearboxes are more affordable. The more expensive hydrostatic gearbox is more convenient and without gear shifting. There's also an intermediate gear in the form of a variator.
Material – Cheaper machines have a sheet metal construction, for rough, rugged, and rocky terrain, opt for a more durable and robust steel chassis.
Cutting height adjustment – There are various height adjustment systems. It's not only the difference between the maximum and minimum that's important, but also the number of steps between these values.
Accessories and features – You can attach various attachments, brushes, rollers, aerators, and more behind the tractor.
Service and warranty – With service, it's good if you don't have to send the tractor anywhere, but a technician will come to you. Also, check the availability of spare parts.
If you don't require a large tractor for your needs, we have also prepared a comparison of different types of lawnmowers. We've focused separately on classic rotary mowers, spindle mowers, string mowers, and a special type of lawn mower – the brushcutter.
Types of garden tractors
You need to think about your requirements before you even start to look at the individual parameters of the machine. These heavy garden machines are divided into two types according to their basic design:
Garden tractors are more complex machines than riders. Riders are lighter, smaller, and more maneuverable. Both solutions have their advantages and will be optimal for different user groups.
Garden tractors
At first glance, a garden tractor is a more robust type of machine. It's a smaller version of a large tractor so the engine is located under an elongated bonnet at the front. It offers more power, a mowing deck between the axles, and the possibility of attaching many accessories in the form of garden attachments.
Modern garden tractors are able to handle more demanding work in less accessible terrain thanks to their construction and variability. You have to accept a little more weight.
Classic garden tractors are brought to the market by a number of proven, quality manufacturers, including Stiga, Husqvarna, Honda, VeGA, Cub Cadet, and John Deere.
Riders
A rider is at first sight a smaller machine, often equipped with only a single-cylinder engine. The biggest difference can be seen in the shape itself. Riders have the engine on the opposite side to garden tractors – under the driver's seat. The mower deck is at the front, making it easier to maneuver.
Their primary task is to mow smaller lawn areas that are characterized by rough terrain. If you have a number of trees in your garden, these obstacles should be avoided. The rider allows you to do this without any problem.
In the case of the rider, you may also see an offshoot called the "Front Mower", which has an additional axle at the front. It's a kind of superstructure of smaller riders that can handle medium and large areas for mowing.
Motorization
The engine is the basis of every machine, whether it's a car, motorcycle, excavator, or garden tractor. Here too, you should place considerable emphasis on the choice of engine. You can come across two engine designs that proportionally affect the overall power of the garden tractor, namely:
Single-cylinder garden tractor
Two-cylinder garden tractor
Single-cylinder engines are found in machines with a power output of around 9 to 12 horsepower. This can be considered the bare minimum in the case of a smaller tractor, which is more likely to cope with flat surfaces and smaller grassed areas.
In the case of the two-cylinder version, power can exceed 24 horsepower. Such equipment usually includes pressure lubrication suitable for driving on sloping terrain. There's also a 4×4 drive to handle harder-to-reach places.
Optimal performance
You might think it's better to pay extra for a more powerful engine but beware. Even with garden tractors, it's not a good idea to oversize the power. Too powerful an engine won't work on a smaller area and you'll struggle with higher consumption. The engine capacity also has a certain influence, but more capacity doesn't automatically mean more power. It's common to find 300 to 500 cc engines on the market, but you'll also find larger power units.
| | |
| --- | --- |
| Cutting width | Minimum power (HP) |
| Up to 28 inches (70 cm) | 4.5 and more |
| Up to 40 inches (100 cm) | 10.5 and more |
| Over 40 inches (100 cm) | 14 and over |
The minimum values given in the table correspond to a flat site that's not too rugged. If you have hills, knolls, or another difficult terrain, we recommend a minimum of 20% higher output.
Transmission
The transmission is also linked to the overall motorization of the garden tractor and deserves a chapter of its own. It's a vital technical gear in such a machine, whose functionality and control are reflected in the overall comfort of riding and mowing. There are usually only three versions to choose from:
Mechanical gearbox
Hydrostatic transmission
Variator
Mechanical transmission
A manual gearbox will definitely be cheaper. In this case, you only have to keep an eye on two essential parts, which are the V-belt and the lubrication area. The functioning of this system is quite simple, you have the possibility to shift different gears while driving. And it's the shifting that can become a nuisance for some people interested in this technique. On cheaper models, you even have to stop to change gears, which isn't an ideal situation.
Hydraulic transmission
The opposite of mechanical transmissions is the more expensive hydrostatic variants. They appear in more sophisticated model ranges. The pump plays an essential role in this respect. The tractor has only two pedals for forward and reverses travel and no gearshift. Simply press the accelerator and the machine will start moving at a higher speed. The higher purchase price is commensurate with the comfort and especially the long life of the gearbox.
Variator
The so-called variator is the transition between tractors with mechanical and hydrostatic transmissions. Although you have to choose between forward and reverse gears, the actual driving doesn't require gear changes and the machine only accelerates or decelerates according to the pedal.
The variator is an upgraded mechanical gearbox, so you can avoid occasional maintenance, such as replacing an old belt. But in return, the user usually gets a cheaper unit than a hydrostatic transmission.
Cutting width
After the correct choice of power and technical design of the garden tractor in general, one of the most important things comes to the fore. The width of the mower deck. As you can probably guess, this parameter is primarily based on the total area you'll be mowing on a regular basis. The width of the swath is based on the length and number of blades that rotate in the cutting deck (normally there are two with the opposite direction of rotation, but sometimes only one).
The following information will help you choose the ideal size.
| | |
| --- | --- |
| Cutting width | Approximate area |
| Around 24 inches (60 cm) | Up to 1,640 ft² (500 m²) |
| 24 to 36 inches (60 to 90 cm) | Up to 9,840 ft² (3,000 m²) |
| 36 to 40 inches (90 to 100 cm) | About 13,120 ft² (4,000 m²) |
| 40 to 48 inches (100 to 120 cm) | 16,400 ft ² and above (5,000²) |
You should also take into account the roughness of the terrain. If you have a large garden, but one full of various shrubs, choose a smaller garden tractor with better maneuverability and the knowledge that you'll be mowing for longer. If you have a number of obstacles within the garden area, the width of the reach should be such that you can easily get through the narrowest spots. Some plots are so rugged that it's worth getting a more conventional mower.
The number of blades
The number of blades in the tractor's cutting deck is also very important for the cutting width. Because conventional garden tractors are also around one meter wide (sometimes more), the vast majority have two blades that rotate in synchronization so that they overlap but don't crash into each other.
For a bore width of over 70 to 80 cm, make sure it's a two-blade system, because a one-meter blade, for example, already has a high circumferential speed when rotating and can be damaged by even a small amount of contact with hard material. The balance of the blade also has an influence on how well the cutting mechanism works. An unbalanced blade causes vibrations and gradually puts stress on the engine, which can end up destroying the tractor.
It's clear from the above parameters that the single-blade system will be the domain almost exclusively of garden riders with a cutting width of up to the aforementioned 70 to 80 cm.
Cutting height
When looking at the specifications of individual garden tractors, don't forget about the cutting height and its adjustability. Manufacturers usually specify minimum and maximum cutting heights, as well as the number of steps you can infinitely adjust between these endpoints. The more adjustable degrees, the finer and more precise the mowing.
So if you want to focus on precision gardening, keep an eye on this parameter too. We consider a minimum cutting height of around 1 to 1.2 inches (25 to 30 mm) to be fairly common. The upper limit is around 3.5 to 3.7 inches (90 to 95 mm).
Where to go with the grass clippings?
When buying a garden tractor, think not only about how to cut the grass as quickly and comfortably as possible but also about how to dispose of it afterward. This is an individual matter, and it should be noted that modern machines in a wide range of product offerings give you a clear choice.
Grass clipping can be processed in three main ways:
Collecting the grass in a collection basket
Side discharge
Mulching
Grass collection in the collection basket
This is probably the most straightforward option. The garden tractor is usually equipped with a collection basket at the rear to collect grass clippings. This leaves behind a neat and clean lawn. There are two ways of emptying the basket:
Manually – usually with the aid of a lever, where in some cases you have to leave the tractor area.
Hydraulically – at the touch of a button on the control panel, the bin is automatically emptied.
Make sure you have enough bing capacity to ensure you don't have to empty the garden tractor too often. Riders are equipped with smaller baskets with a capacity of around 13.2 gallons (50 liters). A good quality garden tractor should have at least 53 to 66 gallons (200 to 250 liters). Depending on the area mowed, the overall performance, and the workmanship of the machine, you can go up to around 79 to 92 gallons (300 to 350 liters) with the basket capacity.
Side discharge
Some garden tractors boast not only a rear bin ejection but also a side ejection or a special ejection chimney. This leaves the grass cut in regular rows behind you. This can be dried or mulched, for example. The side discharge is a handy tool when you want to mow large areas.
Mulching
In addition to a mower deck with one or more blades, selected garden tractors are also equipped with a mulching head. This special system can cut the grass into really small pieces. There are then thrown out onto the mown lawn. This process is a kind of fertilization that benefits any soil.
Finely chopped grass also provides very practical protection from the strong sunlight in summer. The option of this ecological and sophisticated grass disposal is usually at an extra cost.
Material
The material from which the tractor is made affects its overall durability. It's therefore important to base your purchase on what you intend to do with the machine – whether you plan to mow a small, uneven garden occasionally, or whether you plan to frequently drive over uneven, gravelly, and rocky terrain, curbs, or whether you intend to mow large swathes of grass on a daily basis, for example.
The lower-class tractor offers a curved sheet metal frame to which the engine, body, and mowing deck are attached. The axles are also made of sheet metal, and the steering rods are usually less durable. For more expensive tractors with more demanding anticipated work, there's much greater reliance on welded steel sections (cast iron is less common). The more elements of high-quality metal, the more durable and often more expensive the tractor.
The material of the mower blades shouldn't be forgotten either, ideally, they should be made of hardened steel.
Functions
Not every customer will be satisfied with the usual standard, so it's worth mentioning the additional features of garden tractors. These tend to be found in the higher model ranges, or at an extra cost.
Electromagnetic mower deck starter – with a single button you start the mowing process without having to manipulate any lever.
Cruise control – the ability to ensure a constant driving speed without having to keep your foot on the accelerator.
Power steering – a system similar to that of a car. An indispensable accessory when driving in the garden or on rougher terrain.
On-board computer – an element that informs you via the display what functions you're using or notifies you of the machine's status. It's also convenient, for example, to have pre-set mowing modes, which you can then quickly and easily choose between.
Hydraulic connections – the more expensive garden tractors also have hydraulic connections to which you can connect a range of other accessories. You'll appreciate these conveniences more in the professional use of the tractor.
Anti-scalping system – sometimes tractors with a wider reach have trouble following small uneven ground and can scalp the lawn (there's also a risk of damage to the blades). The anti-scalping system means that the mowing deck is on wheels, which allows the unevenness to be traversed and the blade tilts to adjust.
Multifunctional accessories
Most people have a fixed idea that a garden tractor is a convenient way to mow a larger grassed area. This is true, but many people forget that it's a multifunctional machine that allows you to perform many other tasks. Its possibilities expand with the acquisition of practical accessories. Of course, to be able to connect all the elements mentioned below, you must have the corresponding model of the garden tractor.
Front sweeping brushes – a popular accessory with which you can quickly and conveniently clear away, for example, gravel after the winter or sweep up other messes on the ground.
Trailer trolleys – trolleys of various sizes that can be attached to the rear of the tractor, with which you can transport any items – wood, garden waste, dirt, etc.
Aerators – elements with which you can get rid of unsightly moss and aerate the soil.
Spreaders – attachable spreaders allow you to spread grass or crops faster.
Rollers – an indispensable sowing accessory that pushes everything into the soil.
Snow plows – a handy helper, especially in winter when clearing snow. To increase the effectiveness of this accessory, it's a good idea to equip your garden tractor with snow chains.
Deflectors – attach to the rear and widen the opening for throwing out grass.
Aluminum ramps – if you often move your garden tractor from place to place using a trailer behind the car, the ramps become an indispensable and safe tool.
Cover tarpaulin – if you park your tractor outside or under a shelter, equip it with a cover tarpaulin.
High-lift collection basket – an interesting tool for large and professionally maintained lawns. It makes it easy to tip the contents of the bin into the container.
Service and warranty
A garden tractor is certainly not a small investment. When a user decides to buy one, it's necessary to consider the amount from the lower tens of thousands to larger budgets of over a $4,000 or more. In this case, it would be quite rash not to be concerned about the possibility of servicing, the length of the warranty, and so on. You're essentially buying such a cheaper car.
These factors can also play a big part in the choice. Some dealers offer an extension of the basic warranty right in the price, but it's a good idea to find out if it applies to all parts of the tractor or if the periods are different – for example, 5 years for the engine and 2 years for the mower deck.
It's a good idea to find out in advance the location of the nearest service center to where the tractor will be used, or if there's also an option for a technician to come to you. After all, transporting such a machine to the workshop is often not easy. Also, check the availability of spare parts for the particular model of the mower you've chosen.
Most popular brands
There are many manufacturers of garden tractors and riders and there are not only price differences but also quality differences. The most popular brands include Cub Cadet, Stiga, MTD, AL-KO, and John Deere. We've described the most interesting brands in more detail in the paragraphs below.
Cub Cadet
The US company Cub Cadet has been supplying mowers since 1961. It's specific for the high quality of its products, which is due to its domestic production in the USA. It's therefore not a jigsaw of plastic parts from a factory in China, but a predominantly American product. The manufacturer mounts quality Kawasaki and KOHLER engines, which are considered the most reliable powerplants on the market.
Most Cub Cadet garden tractors and riders have a hydrostatic transmission, which this manufacturer was the first to fit in garden tractors in 1966. Cub Cadet products are generally more expensive, but according to users and experts, they offer long life and functionality.
Stiga
The Swedish manufacturer Stiga began writing its history in 1934. The company not only focuses on combustion-powered garden tractors and riders, but it also thinks ecologically. As a result, the range also includes battery-powered garden tractors.
Under the bonnet of Stiga garden tractors, you'll find engines of their own production or Honda engines. Either way, you get a reliable engine that's praised by experts and users alike. The design of the tractors is Scandinavian, the front is dominated by a tall grilled engine radiator. Due to the higher quality, you also get a higher purchase price.
Price
The possibilities of using a garden tractor depend largely on how much you want to invest in the equipment. Even equipment costing more than $15,000 is no exception. If we're to consider the domestic or semi-professional use of a garden tractor, the price range of the products on offer will be slightly different. The following section offers a comparison of garden tractors across price categories.
Up to $2,000
If you're limited by the price limit of $2,000, don't despair because you can easily get the garden tractor of your dreams. However, you have to accept that the offer won't be that varied. In the lower price range, you're more likely to come across riders. In this case, count on products with a width of up to 39 inches (98 cm). Also, the maximum power will normally not exceed 17 hp. Machines under $2,000 will usually have one or two cutting blades.
From $2,000 to $4,000
If you invest more than $2,000 in a garden tractor, you have quite a wide range of options to choose from. For almost double the price, you can have machines with around 18 to 21 horsepower that will offer you a 40 to 41 inches (102 to 105 cm) cutting diameter. The mulching head, including a mowing deck with up to three blades, will also not be lacking in many ways.
Price over $8,000
You could say that for the home environment, overkill machines find their firm place mainly in everyday and also longer use. Outputs in excess of 25 hp, a basket capacity of up to 169 gallons (640 liters), and a reach of approx. 46 to 48 inches (118 to 122 cm). That's what a machine with four blades and extra equipment looks like.
Basic service tasks
Whatever tractor or rider you have in your garage or garden shed, you should never underestimate its regular maintenance. You can do some or all of this yourself, or you may prefer to have it serviced by an authorized workshop.
Changing spark plugs, engine oil, and fuel filter at predetermined intervals is absolutely essential. These may vary from manufacturer to manufacturer. Furthermore, it's more of an inspection that will determine the need to replace a particular part:
Air filter
The battery
The mower deck
Blade balance
Drive belt
It's advisable to clean the garden tractor after each mowing, including checking the functionality of the individual parts and safety features.
Frequently asked questions about garden tractors
How and which garden tractor to choose?
When selecting a tractor, you should base your choice on the intended use. Determine what kind of area you'll be mowing, whether it's flat or very rough, etc. From these parameters, choose the right type of machine with the ideal power and, above all, the cutting width, which can normally be over one meter. The wider the reach, the faster the work. It's certainly a good idea to keep an eye on other mowing parameters (height adjustability), additional functions, and so on can make the work more pleasant. Find the best garden tractors in our comparison.
What's the difference between a tractor and a rider?
A rider is smaller and more agile than a garden tractor. Its mower deck is positioned at the front so you can maneuver it better. This makes it ideal for smaller spaces. The garden tractor is more robust and offers more power. It's also more variable, as you can choose a variant with many attachments for additional use. You're likely to reach for it if you need a helper for more demanding work in more difficult-to-access terrain.
Is it necessary to take the garden tractor to the workshop?
Some basic servicing is necessary for trouble-free operation. Whether you can do them yourself or prefer to have them serviced is a matter of your comfort and manual dexterity. If you can change the spark plugs or engine oil yourself, that's a plus. Otherwise, check the length of the warranty and the service offerings of each dealer. In fact, it's possible that the service offers the option of a technician visiting you at home, which pleasantly saves you time and other worries.
When is a garden tractor old and in need of replacement?
Most people rate a tractor as "old" unnecessarily early. That's a shame – considering that tractor prices are certainly not insignificant. However, a period of use under 7,000 hours can be assessed as a "break-in" period. Most tractors will last between 12,000 and 15,000 hours. However, quality tractors with 20,000 hours are no exception.
Which lawn tractor to choose?
We recommend choosing a garden tractor with more than 10 HP (horsepower). This is because tall grass has harder blades, so the driver needs to be able to cope with this complication. If you don't maintain the plot for a long time, we recommend checking it before mowing. There should be no large branches, stones, or other hard objects on the ground that could damage the mower blades.
We strongly recommend cutting tall grass only when it's dry. If the blades are wet, they may become entangled on the shaft and you'll be cleaning the blades of the entangled grass instead of working. Wet grass also has more strength and weight, so it requires considerably more power. The situation is therefore similar to cutting wood; dry first, then process. If your tractor won't take the grass because it's already too high, drive the plot to the highest point first and then to the lowest.