October 3, 2022 by The Merovingian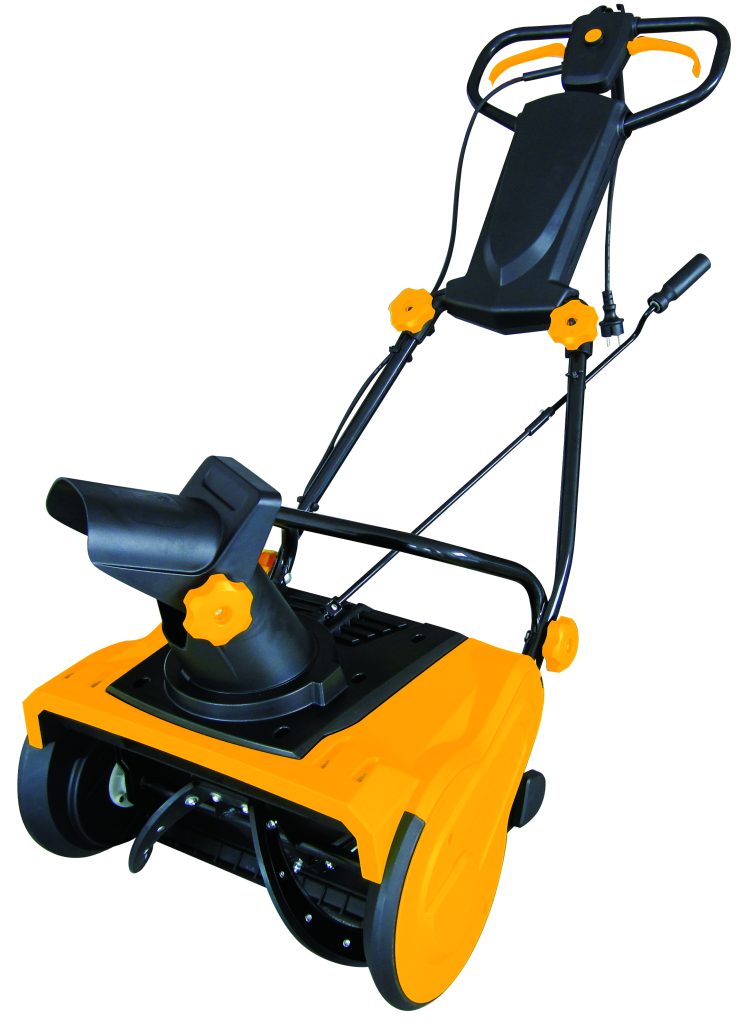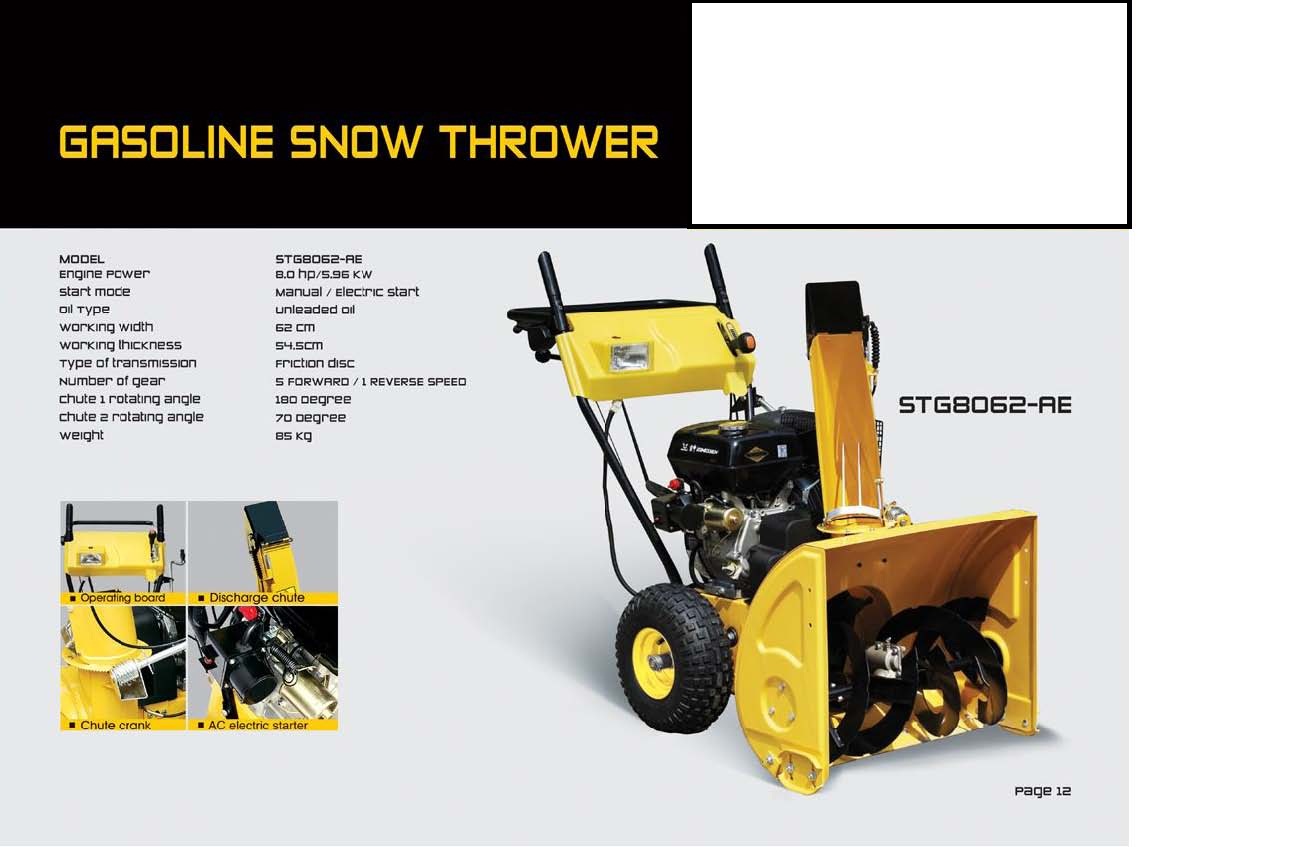 Although a snow blower serves only one purpose, there are a number of parameters you should consider when buying one. In particular, it depends on the area you will be clearing snow from. Depending on this, you can then choose between one-, two- and three-speed snow blowers with petrol or electric drive. We'll take a closer look at all of these types in our article How to choose a snow blower and tell you what conditions they're suitable for.
In the following chapters, you'll then learn what a bunker is and why its height is important, as well as the width of the cut, or when to go for a tracked cutter rather than a wheeled one. We'll get a handle on engine performance and also mention some of the other specifications and features you should look for in a snow blower. You'll find that while some features have different catchy names, they often mean the same thing – like power steering.
Finally, we'll also tell you what to look out for when actually buying and visiting the shop. What elements you should feel, check and verify? And since we also list the basic specifications of snow blowers in different price categories, you'll be fully equipped to choose the best machine. So snow clearing will no longer be an annual ordeal for you.
How to choose a snow blower in a nutshell:
Be guided by the size of the area to be cleared – The larger the area you want to clear, the better and more powerful the cutter you need.
Single or two-stage? – The former is suitable for small areas and fresh snow, while the latter can handle more demanding tasks. There is also a three-stage cutter, but it is rarer and unnecessary for most people.
Choose the right drive – Electric blowers are cheaper, but you'll have to lug cables everywhere. Petrol ones are also more powerful.
Take into account terrain availability – A wheeled mower is suitable for classic terrain. Crawlers are good for hard-to-reach places and slopes.
Check the swath width – The wider the swath, the faster the terrain will be cleared. But for small areas, the cutter can look clumsy.
Don't forget the accessories – For example, an electric starter, power steering, or heated handles can be useful.
Set a budget – A single-stage mower can be bought for a few thousand, while more powerful ones can cost tens of thousands.
Types
There are several types of snow blowers on the market. Their operation and general use should always match your needs. Specifically, what kind of snow you want to clear and what kind of surface you will be moving over.
You can choose from the following three designs:
Single-stage blower
Two-stage blower
Three-stage blower
We have summarised a brief overview of all the advantages and disadvantages of each type in the table below.
Types
Pros
Cons
Single-stage blower
+ Compactness
+ Lower price
+ Easy handling
– Not suitable for larger areas
– Suitable only for paved surfaces
Two-stage blower
+ Efficient and faster snow removal
+ Handles softened and hardened snow
– Higher price
Three-stage blower
+ Powerful
+ Fast snow removal
+ Handles wet snow
– High price
– Very limited supply
Single stage blower
From a design point of view, this is the simplest type of this device. The whole machine consists of a single worm. Underneath you can imagine rotating blades made of hardened rubber. Their movement is used to clear the snow and to move the cutter itself. The auger scoops up the snow and pushes it into the chimney, where it is thrown away.
The single-stage snow blower has a number of advantages. Among them are the compactness and simplicity of the whole device. This limits the risk of damage to any of the components. Another advantage is the lower weight compared to other models, which makes it easier to maneuver and operate.
On the other hand, you have to take into account certain limitations. The way the snow is cleared and the movement without travel make these cutters suitable only for paved surfaces. Typical examples are sidewalks and driveways. It should be noted that the single-stage cutter is really gentle on these. The rubber edges of the auger also have an influence on this. The capacity of the snow blower is more suited to smaller amounts of snow, ideally freshly fallen snow.
Two-stage blower
The snow-clearing system is a little more complicated with a two-stage snow blower. The first part of the job is taken care of by the steel auger, which in this case is equipped with saw teeth. These cut away and crush large chunks of snow. Then comes phase number two. Here, a high-speed fan with special blades plays the main role. It scoops up the cut and crushed snow and throws it away via a curved chimney.
The two-stage snow blower is certainly more efficient and quicker to clear snow than single-stage machines. It can handle fresh, hardened, soft, choked, packed, or even frozen snow. Ideal surfaces are larger areas such as parking lots and wide sidewalks, it can also handle unpaved and uneven surfaces.
You should start thinking about a two-stage snow blower when you need to plow paths over forty meters long. On the other hand, you have to consider a higher initial investment, and compared to a three-stage snow blower, the clearing process is more time-consuming and difficult.
Three-stage blower
The third type of snow blower is the most complex, clearing snow in three stages. Again, expect several types of drive elements. The first scoop up the snow and drives it towards the second, which crushes the snow and drives it even faster into the third stage. During this stage, the snow is thrown out through the chimney.
Thanks to the application of the third drive element, it is the most powerful type of device of all the above-mentioned. Snow removal is therefore fast. This of course also contributes to the ease of use of the snow blower. It will be most at home in large snow-covered areas, where even wet snow will not surprise it.
However, the range of three-speed snow blowers is quite limited. Usually, these are machines with a price tag of over $2,000 and are suitable for specific and professional use.
Electricity vs. petrol
When choosing a snow blower, you may have one more crucial question. Whether to invest in an electric or petrol engine. Either way, the differences are significant, so it's more a matter of which operation and use of the equipment you prefer.
Electric snow blower
The lower purchase cost speaks in its favor. Usually, the electric motor is only included in single-stage machines or special electric rakes.
However, the low price is offset by the need to drag an extension cable behind it. You shouldn't count on ground-breaking performance when clearing snow. It is, therefore, better suited for cleaning smaller areas within reach of an electrical outlet. At the same time, the snow should not be wet or frozen over in any way. Most electric snow blowers cannot cope with this.
A certain offshoot of the electric snow blower is the cordless one. Its mobility and essentially minimal noise level are in its favor. However, the performance is not too hot. That's why you'll rarely come across one.
Petrol snowblower
The petrol engine especially makes mobility easier. You fill up the snow blower and you can set off with it to clear any snow-covered surface. Of course, you have to take into account the increase in the purchase price and you have to keep petrol on hand at all times. On the other hand, you usually get high performance, whether it's a single-speed, two-speed, or three-speed solution.
Size of the area to be cleared
It is important to think about the area you will be clearing most often. You will need a different type of snow blower for a small patch in front of your house or a short driveway than if you are clearing snow across an entire parking lot. So the size of the area to be cleared should determine your choice.
Driveways and shorter sidewalks
If you will only be clearing small areas such as patios, shorter paths, and the like, a basic and more conventional snow blower will be sufficient. This is usually a single-stage type with a width of up to 19.7 inches (50 centimeters) and wheels. The advantage will be the compactness of the product and easier handling.
Long driveways and larger areas
If you are going to be shoveling longer driveways that are more than 131 feet (40 meters) long, or perhaps small car parks and similar areas, a two-stage cutter will probably suit you better. It is slightly more expensive than a single-stage, but on the other hand, it is more powerful. Choose a product with a cutting width of more than 19.7 inches (50 centimeters). If the terrain to be shoveled is without big terrain fluctuations, a wheeled cutter will do.
Large parking lots and large areas
If you have large parking lots and other large areas to clear, you'll want a powerful machine that makes the job go faster. For this reason, look for a three-speed cutter that will have a width of 29.1 inches (74 centimeters) or more. However, you need to factor in a higher purchase price. Then decide whether wheels or tracks are better based on the roughness of the terrain.
Type of travel
Particularly with the two-speed snow blower models, you will find further divisions associated with the movement of this winter helper. You can choose between three variants.
Wheeled snow blowers
Belt snow blowers
Snow blowers without drive
Wheeled snow blowers
The name of this product category is telling. Snow blowers are complemented by conventional wheels with a winter pattern. Such a product may also include a number of different systems that contribute to better turning in place, reversing, and turning in general. In terms of marketability, this is the more sought-after version of the snow blower. It is perfectly adequate for normal use.
Belt snow blowers
In this case, the drive elements are the belts. They find their primary use in difficult terrain. With the help of such a cutter, you will be able to create a path in the snow without any pre-raking. The belts do not hurt so much and can easily cope with larger drifts and sloping terrain. This is also the reason why these machines are more likely to be used in more demanding conditions.
Cutters without running gear
These cutters do not have any travel, you have to push them by hand. Usually, these are single-stage cutters, which are designed in such a way that the movement of the auger moves the machine itself forward. This makes the movement to a large extent easier. The problem will be more difficult conditions, however, which these models are not designed for anyway.
Shot width and bunker height
Now we'll move on from the drive parts of the snow blower to the functional elements that will determine your overall comfort and snow-clearing speed. Among the most important ones are the width of the bite and the height of the bunker. The latter is an unmissable part of any cutter and is located at the front of the cutter. It is the element that picks up the snow and pushes it out of the way via augers. The main elements are, therefore:
The width of the swath
This determines how wide you can clear the road at one time. If you need a snow blower to clear a driveway in front of your house or a narrower sidewalk, a smaller width of up to 20 inches (50 cm) will do the trick. For larger areas, you can reach for a width of over 27.5 inches (70 cm), with 20 inches (50 cm) being the bare minimum.
But beware of some websites and comparison sites. In fact, they list the diameter of the bunker in place of the shot width. This is half that, but you may not realize at first that you need to double this figure to get the width of the shot. You should especially see an exclamation mark for values that look suspiciously low, e.g. 12 inches (30 cm). In this case, it is very likely that the actual width is double, i.e. 24 inches (60 cm).
Bunker height
The bunker is, in layman's terms, the shell of the moving auger, which looks like a plow at the front of the instrument. Its dimensions correspond to the amount of snow to be scooped. Again, choose the parameter depending on the environment in which you will be using the snow blower. For light urban use, you can get by with a bunker height of up to 21 inches (53 cm). For more demanding cleaning, you can get bunkers with a height of up to 24 inches (60 cm).
Engine power
Simply put, the power of the motor determines how easy it is to work with the cutter. It is usually given in horsepower (you may also find the abbreviation HP, horsepower) or kilowatts (kW). The higher the horsepower, the better. Because power is positively correlated with smooth engine operation. This means you can avoid any congestion, slowdowns, and similar ailments.
The more common cutters have engines with around 5-6 HP, but you can also find cutters with 10 or more HP. The power is proportional to the size and design of the cutter. Of course, traveling snow blowers allow you to change the forward and reverse speed.
Ejection tunnel
An integral part of the snow blower is the discharge tunnel (or chimney), i.e. the space through which the snow is transported to another location. As its name suggests, the removed snow is thrown away. There are different types of tunnels on the milling machines. The most common manufacturing material is plastic and metal, the latter being stronger and more durable.
In order to be fully satisfied with the snow ejection, make sure that the ejection tunnel is adjustable. This will allow you to throw the snow to any side. The basic angle is 180°, but you get more options with tunnels that can be adjusted 200°-300°. The more powerful the device, the further you can throw snow.
The remote control of the ejection tunnel can be a handy aid. This is located on the control panel and allows you to adjust the tunnel with one hand while in operation. Both the direction and the length of the ejection can be adjusted. This feature is often referred to as a Quick Stick and takes the form of a classic joystick.
Functions and accessories
Snow blowers can be purchased in different design variants. Some will opt for the basic model, while others will require something more from this product. There are a number of features and accessories available that contribute to greater convenience. You can take inspiration from the following lines.
Electric starter – Not everyone is comfortable starting a snow blower with the pull of a bow. That's why some models are equipped with an electric starter for effortless starting. These are not electric snow blowers, but petrol ones. You plug in the mains cable, start the cutter, unplug the cable and start shoveling snow.
Light – An ideal accessory especially for working at night when you can shine a light on the road.
Power Steering – A mechanism with a result similar to that of conventional cars. The turning motion and any manipulation of the snow blower will be much easier, faster, and less laborious. You may come across this system under the name Easy Turning, FreeWheel, Power Steering, or Auto Turn.
Heated Handles – Heated handles that keep your hands nice and warm while you work.
Tear-off blades – A handy tool for getting through higher drifts. These blades are primarily located on the auger cover, i.e. the bunker. This will make it easier for you to work in difficult snow conditions.
Polymer skid – This is the contact between the snow blower and the surface. The special polymer manufacturing material is gentle, so it leaves behind no scratches or similar surface damage. These skids are usually height adjustable.
Snow chains – Accessories for wheeled snow blowers that increase snow clearance.
Shovel – An element attachable to a snow blower by means of a special frame. The snow can then be cleared by pulling down the plow.
What to pay attention to when making a personal choice
When choosing a snow blower, if you want to see the quality of your chosen models for yourself, there are a few practical tips to help you assess the precision of the workmanship. These are just basic tools to give you an idea of how durable and comfortable the product is.
Take a look at the gearing. This must be located on one main panel so that you don't have to bend in any way when reaching the controls. The gearshift should be as short as possible.
The metal worm must have high strength. Whether you choose a single-stage, two-stage, or three-stage design, the blades must not move, bend or cross in any way when pressed firmly.
Pay attention to the precision of the bunker design. The bunker is the first to come into contact with the snow. You can check its strength by hand pressure. The bunker should not flex in any way.
With a wheel cutter, take a good look at the tire tread pattern. Look not only at its shape but also at its depth – an insufficiently deep tread pattern can cause problems in the snow.
A multi-year warranty, including accessible after-sales service, can also tell you a lot.
Price
Snow blowers are a more expensive investment in terms of the purchase price for a winter helper. No wonder. If you're looking for effortless snow clearing, it's a good idea to go with a proven, quality brand. Manufacturers such as Hecht, VeGA, Honda, Husquarna, Stiga, MTD, and Lumag will delight you with trouble-free operation, a wide choice of models, and long-lasting durability.
Price up to $400
If you're a low-maintenance customer and need to clear a really small area of snow, then you can get by with an electric rake, which can be purchased for just $100. You can also find basic models of snow blowers in this price range. These are mostly single-stage products with less power up to 6 HP and a total weight of up to 165 kg.
Price from $400 to $800
Two-stage snow blowers require a higher investment. You can look forward to more powerful petrol engines with a power of 6-7 HP. The width of the cutter will be around 24 inches (60 cm) and the height of the bunker itself over 20 inches (50 cm). With more equipment, the weight will also increase to 165-187 lbs (75-85 kg).
Price from $800 to $2,000
Two- and three-stage snow blowers with a cutting width of up to 30 inches (75 cm) and a bunker height of up to 23 inches (58 cm). These are the machines in this price category, which present themselves with a power of well over 10 horsepower and a weight of around 243-276 lbs (110-125 kg). You'll enjoy a handy electric starter, swivel ejector tunnel, power steering, and other conveniences.
Price over $2,000
If you're really serious about clearing snow and have large areas to clear, there are plenty of snow blowers to choose from. You can also use special sit-on snow blowers with up to 28 HP. A snow cannon doesn't have to be an exception. However, it is true that this professional equipment exceeds the purchase cost of $20,000.
Frequently asked questions about snow blowers
How and which snow blower to choose?
It mainly depends on where you will be clearing the snow. Even basic models will clear pavements or small spaces – as long as you don't let the snow harden. These are usually single-stage snow blowers, often have an electric motor, and cost thousands of crowns. For larger and more challenging terrain, choose two-stage petrol models that can handle hard or wet snow. Also, look at the width of the bunker and the height of the bunker to keep clearing time to a minimum.
What's the difference between a single-stage and a two-stage cutter?
Single-stage snow blowers work on a simple principle – by turning the auger, the snow is scooped up and dumped straight away. These are most often electric models costing in the thousands and are suitable for clearing small areas of fresh snow. Two-stage snow blowers first cut the snow with a metal auger and then process it in a fan and throw it away. This includes most machines that are also suitable for hard and problematic snow. They have a petrol engine and are more expensive.
How do you know a good snow blower when making your personal choice?
When visiting a store and inspecting a snow blower in person, it's a good idea to look at the quality of workmanship. In particular, the bunker and auger should be strong and durable, and should not flex or make unpleasant noises when dipped or pushed harder. Test how comfortable the shifter is for you – it should be positioned so that you can reach it naturally when clearing. For wheeled cutters, look at the shape and depth of the tire tread. Also, ask about the length of the warranty and service.